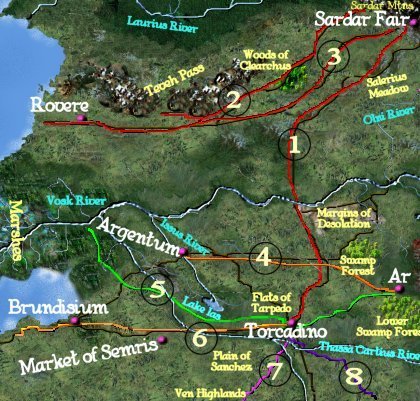 Pilgrim's road: Links Torcadino and the Sardar Fair
Road of Clearchus, a.k.a. Old West Road: This secondary road once used by military forces links the west to the Sardar
Road of Cyprianus, a.k.a. New West Road: Another secondary road linking the west to the Sardar, Cyprianus is safer and easier than Clearchus and was built to reduce the traffic on the latter
Argentum Road: One of the few that does not pass through Torcadino, this road links Argentum to Ar
Treasure Road, a.k.a. Eastern Road: Links the Western Cities to Ar via Torcadino and constitutes the quickest and most civilized route between Torcadino and Ar
Genesian Road: Links Torcadino and Brundisium
Northern Silk Road: Links Torcadino and the tropics
Northern Salt Line: Links Torcadino and Kasra, as well as the trade routes of the Southern Plains and Tahari desert regions
Vitkel Aria, a.k.a. Vosk Road: Meaning Ar's Triumph, this great road is comparable to the Appian Way of ancient Rome and runs from Ar to the Vosk River.
Supporting Quotes:
"Torcodino, on the flats of Serpeto, is a crossroads city. It is located at the intersection of various routes, the Genesian, connecting Brundisium and other coastal cities with the south, the Northern Salt Line and the Northern Silk Road, leading respectively west and north from the east and south, the Pilgrim's Road, leading to the Sardar, and the Eastern way, sometimes called the Treasure Road, which links the western cities with Ar,"
-- Mercenaries of Gor, pg 101
"Some two years ago the merchants and builders had opened the road of Cyprianus, named for the engineer in charge of the project, which led to the fairs rather from the southwest. This had considerably reduced the traffic on the road of Clearchus, now to its north, which had approached the fairs in such a way as to favor the traffic from the northwest, with the result that several of the establishments on the road of Clearchus had been abandoned or relocated. One advantage of the more southern route is that it passes through less rough terrain, terrain which provides less cover for highwaymen. In particular, it does not pass, for several pasangs, though the woods of Clearchus [which]… incidentally, to this day, remain a haunt of brigands,"
-- Players of Gor, pg 99-100
"The wagon would proceed east on the Argentum road, reach the Viktel Aria, and turn south. Then, in time, it would arrive in Ar,"
-- Kajira of Gor, pg 263
"It also commands, in effect, the northern terminus of one of the great roads, the Viktel Aria, or Ar's Triumph, leading toward Ar. This is also the road popularly known as the Vosk Road, particularly by those viewing it from a riverward direction,"
-- Rogue of Gor, pg 63